Speedsport wraps up impressive 2016 season at Daytona!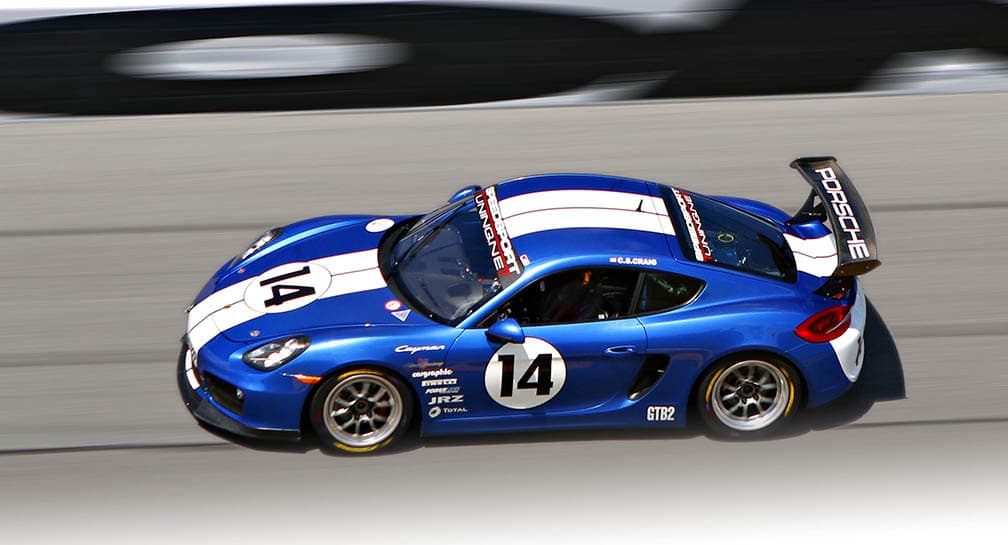 At the season-ending Daytona PCA race weekend, Speedsport Tuning clients feasted on the asphalt and the podium.
Jack McCarthy won the national GTB3 Championship and set a new lap record at Daytona in his Speedsport-built Cayman.
Charlie Craig won the GTB2 Championship in his rookie season! Charlie also received his first Worker's Choice Award at Daytona. (Photo above of Charlie Craig at speed on the Daytona banking in his Speedsport Tuning-prepared, championship-winning Cayman!)
Speedsport Tuning founder Spencer Cox won both of his races and clinched the GTC4 National Championship in his GT3 Cup.
Carlos Gomez set a new GTB1 lap record in his Axis of Oversteer sponsored Cayman.
Monticello Motor Club President Ari Straus won both sprints and set a new lap record in his F-Class Boxster. If that wasn't enough, Ari also won the Worker's Choice Award.
Todd Pajonas missed the championship by only one point for the second consecutive year, but Daytona capped an amazing season in his I-Class Martini-liveried Cayman.
Jonathan Fairbanks also ran strong all weekend to finish out a great season in his GTC3 Cup car.
John Frank took 3rd Place in the inaugural GT4 Clubsport Series Masters Class Championship.
The entire Speedsport Tuning team congratulates and thanks our clients on a fantastic season. We're all looking forward to 2017 with some new racers coming onboard and some existing drivers moving up in class.
To view the full 2016 Daytona PCA photo gallery, click here.